The Laboratory of Gene Expression received funding for the international project "ALEXANDER - The astrocyte nanofilament system in Alexander disease - from molecules to function, uncovering new leads for therapy" under the European Joint Program on Rare Diseases in cooperation with University Medical Center Utrecht ( UMCU) Brain Center, Netherland (consortium coordinator), further with University of Gothenburg (Sweden), Lund University (Sweden), The Hebrew University of Jerusalem (Israel), Spanish National Research Council (Spain) and two patient advocacy organizations in Luxembourg and Netherlands.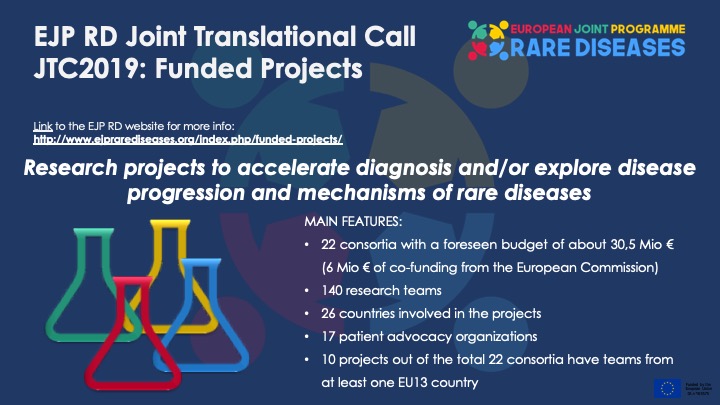 In December 2018 the EJP RD launched its first Joint Transnational Call (JTC2019) co-funded with the European Commission to fund multilateral "Research projects to accelerate diagnosis and/or explore disease progression and mechanisms of rare diseases". The aim of the call was to enable scientists in different countries to build an effective collaboration on a common interdisciplinary research project based on complementarities and sharing of expertise, with a clear benefit for patients. Twenty three countries joined this call: Austria, Belgium, Canada (including Québec), Czech Republic, Estonia, Finland, France, Germany, Greece, Hungary, Ireland, Israel, Italy, Lithuania, Luxembourg, Poland, Portugal, Slovakia, Spain, Sweden, Switzerland, The Netherlands and Turkey.
The process included a two-step submission and evaluation procedure.
In the first step a total of 217 eligible pre-proposals were submitted. After careful examination by the Scientific Evaluation Committee (SEC), 52 pre-proposals were selected for full submission. Each of the full proposals was then evaluated by at least two additional external experts whose reviews were sent to project coordinators in order to give them the opportunity of studying the assessments and commenting on experts' arguments and evaluations. Both inputs were taken into account in a second SEC meeting.
Following the second SEC evaluation and ranking of the best projects, 22 consortia with a foreseen budget of about 30,5 Mio € were selected for funding, including almost 6 Mio € of co-funding from the European Commission.